I have or should say "had" an old tattoo,
A faded rose from days gone by
. I've had getting it covered or re-worked on my list of things to do before I retire. Why that list, because what I've been thinking about getting will cost more than I will be able to afford once I'm self employed, hopefully teaching and sharing my love of vegan cooking with others.
I love art and I've seen some lovely tattoos on women. My friend who owns a couple restaurants had a "Rosie the Riveter" portrait on her upper back with pies and cakes piled all around Rosie's waist. I was pretty inspired. Of course, I don't want to copy someone's art, so I just stuck it in the back of my mind and pondered what I'd do when I finally got it done. I once saw a woman who had a typewriter tattooed across her arm, she told me she's a writer. Sometimes, I like to go to the face painter's booths at music festivals and have a large bouquet painted on for the day. This last summer while walking the Alberta "Last Thursday" art walk in Portland, I saw a woman with a bouquet of fresh vegetables on her upper arm. I loved it and found my inspiration. I asked her if I could take a picture of her tattoo.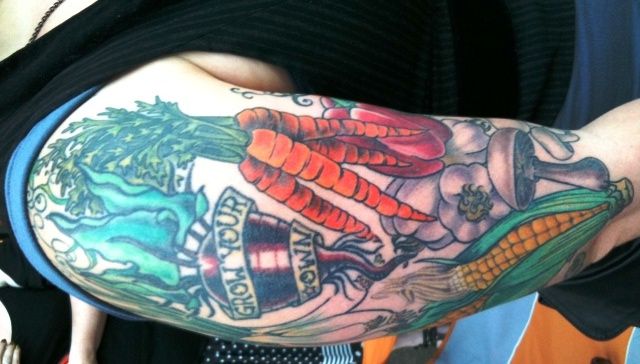 I pass a sign on my way to the Payton's produce store weekly. "We Fix Old Tattoos and Make 'em New" I often think about going in there and talking to them and one day it happened. Felicia had just gotten a lovely vine of flowers with all her children's names around the leaves and she introduced me to the artist, Jason Hanks. I showed him my faded rose and suggested he make it into a cabbage and maybe add a vegetable or two. I showed him the picture of the woman in Portland and told him I wanted something similar. We made an appointment to design it, we started looking at my pictures from the garden, he got to drawing, and pretty soon I ended up with an original still life. One of the best parts is that he used pictures from my own photo galleries for some of the models. When it came time to color the golden beet up front I brought in some fresh organic golden beets. It took about nine hours, three sittings over three months. It's a bit bigger, OK, a whole lot bigger, than I imagined, but I do love it and so does my husband.
The sad part, I live in the Pacific Northwest and won't be able to show it off, but a few weeks a year. It'll be
under sweater
for quite a few months.
When I showed it to Chef Al at the Compassionate Thanksgiving, he said, "You can grow your vegetables, you can cook and eat your vegetables, now you can wear your vegetables!" I like wearing my vegetables, inside and out.