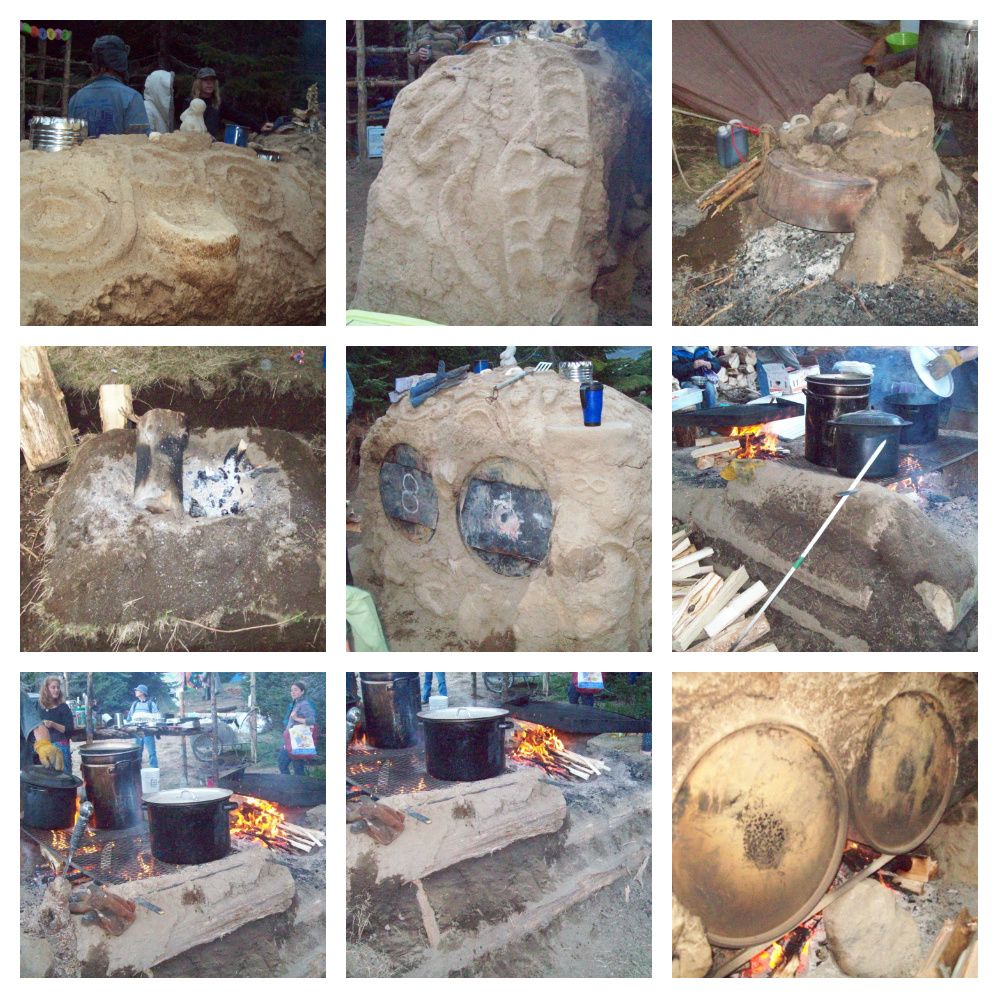 The Stoves & Ovens of Rainbow
The
Rainbow Gathering
was in our backyard this year. It was held in a meadow way up in the Gifford Pinchot national forest, about 60 miles from home. It's little piece of home I had forgotten about. When Scott & I first became sweeties in
La Honda, CA
, he rented a room from our friend Marilyn. I lived across the street at Blaine's with my very young son Bob. It was almost as if we lived together in two houses. Marilyn was an original Rainbow. She was part of the Brew Ha Ha tea room and she was always ready to show pictures and movies of the gathering, something she would not miss each year. I'd see her VW bus headed out of town right before the fourth of July headed to the gathering, camping and kitchen supplies packed on top. I remember her showing us home movies and sharing the photo album she kept on her kitchen counter. I saw that photo album at the gathering this year. I looked through the photos once again and said hello to her as I thumbed through pictures of her in her vibrant tie dye with her huge smile. She wasn't there physically this year as she passed on a few years ago from cancer, I know her spirit was there. It was an extra special experience to be able to drink tea at the Brew Ha-Ha and attend a meeting there. The Brew Ha-Ha held three meetings a day, open to all in recovery. The weather was good to us, even with a little snow on the ground, it was a warm 80º weekend.
Just above the Brew Ha-Ha was the Musical Veggie Café. I knew I'd be volunteering at one of the kitchens while we were there, this looked like the perfect place. The folks I worked with were great. It was a grand Sunday in the sunshine preparing lunch while musicians played their songs and the folks around the fire circle sang camp songs, many were folk songs from the sixties. We made rice noodles with a cashew sauce, a very lively coleslaw, and a nice miso soup for about 150 colorful campers.
The kitchens at this event were amazing. I kept saying I was on a Rainbow food crawl. I was so impressed at the stoves and ovens created out of mud and rock. We ate some pretty incredible meals wandering around the meadow all weekend. Fresh bread was baked and served to thousands. There was curried rice, fresh vegetarian sushi rolls, fettuccine Alfredo, the best oatmeal and pancakes I've ever eaten camping, and much more. One of the kitchens baked fresh bread every day for the dinner circle at the main meadow. The kitchen at "Kid Village" was huge. I saw them feed probably over a thousand people in one meal. That kitchen was so under the trees, it was too dark to get a good photo, but it was something. They were preparing cinnamon rolls for the morning meal. Bread was cooling on racks made from small branches and twigs. Another kitchen served just coffee, and good coffee it was. When each round of coffee was prepared, it only lasted seconds. We waited in front of the tent while they were grinding and brewing. The crowd gathered as if we were waiting for a band to come out and play.
The fourth of July was very special, the big event of the gathering. The entire camp was very quiet as most observed the four hour silence in the morning, broken by children's parade, and followed by a very spiritual blessing and an immense prayer circle all around the meadow. We prayed for peace and ended by all singing John Lennon's Give Peace a Chance. It was a very moving experience on that warm Monday morning.
I wondered throughout the weekend why we'd not attended before. My husband had gone to one in 1984, right before we got together. It's always during the week fourth of July in a different national park and in my profession, it's pretty hard to get that week off for vacation. I am very glad they held it so close to us this year and the way the fourth fell on the calender this year, we were able to take a four day weekend. We had a great time, met lots of great brothers and sisters from all parts of the country, and hope we can attend another sometime. Blessings come in many forms.