I cooked a medium pumpkin this weekend. Made some
vegan pumpkin pie ice cream
, a
dairy free pumpkin pie
, and pumpkin risotto. There is still a little bit left for something else.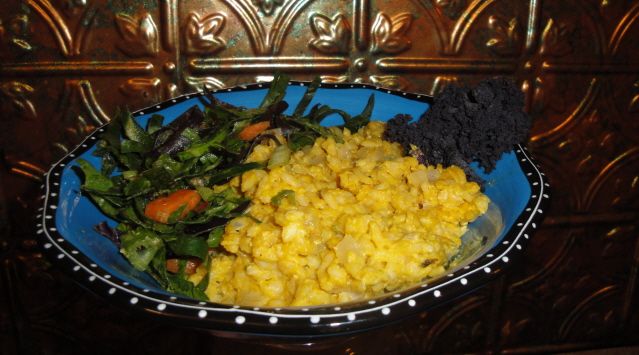 Pumpkin Risotto
* 1 onion. diced
* 1 tbsp olive oil
* 2 cups arborio (risotto) rice
* 1 cup white wine
* 4 cups vegetable broth
* 1 cup canned pumpkin
* 1 tsp fresh ginger, grated or minced
* 1 tsp nutmeg
* 1 tbsp chopped fresh basil
* 1 tbsp margarine
* salt and pepper to taste
I added 3/4 cup cashews and nutritional yeast to the pumpkin pure which gave it a rich cheesy texture and taste. Served with a fresh salad of Chard, collard greens, peppers, carrots, and diced avocado with a little lemon juice.
Preparation:
Saute the onion in olive oil over medium heat for three to five minutes, or until soft. Add the rice. Allow to cook, stirring, for a minute or two. Slowly add the wine.
Start to add the vegetable broth, 1/2 cup at a time. Allow the moisture to cook off before adding the next 1/2 cup. Stir frequently.
Add remaining ingredients, stirring well, and cook for just a few minutes, until heated through.