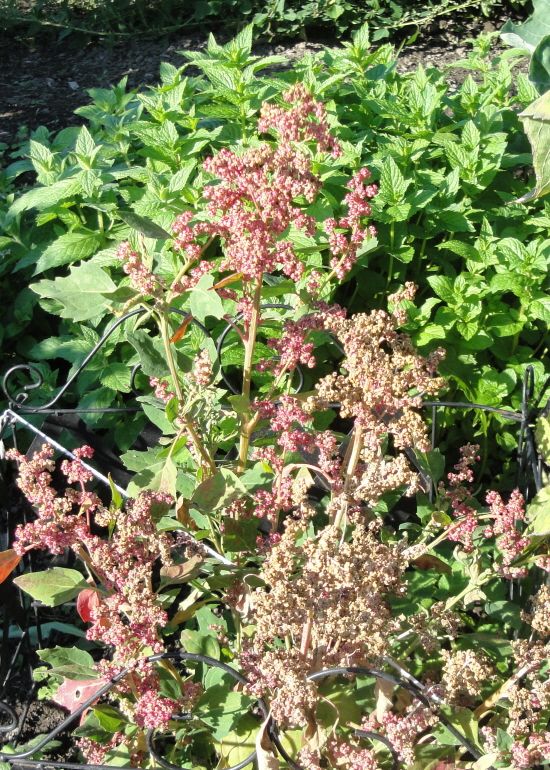 Cherry Vanilla Quinoa
We usually have a smoothie during the week for breakfast, but on the weekend I like to do something different. I found a nice recipe for quinoa and apricots, cooked in non dairy milk with raisins and vanilla. I used dried cranberries and the apricots I canned last summer. The quinoa is kind of special because I grew it in the garden, homegrown quinoa. We failed to take a picture of it, but I'll post the recipe because it's very easy and it came out very good. It was raining pretty hard this morning and a warm breakfast was very welcome.
Fruited Breakfast Quinoa
Makes about 6 1/2-cup servings
Quinoa is a highly nutritious grain that was a staple in the diet of the ancient Incas. It has a delicious flavor and a light, fluffy texture.
1/2 cup dry quinoa, well-rinsed
1 1/2 cups vanilla rice milk
2 tablespoons dried cranberries
1 cup chopped fresh or canned apricots
1/4 teaspoon vanilla extract
Combine quinoa and rice milk in a medium saucepan. Bring to a slow simmer, then cover and cook for about 15 minutes until the quinoa is tender. Stir in cranberries, apricots, and vanilla, then transfer about 1 1/2 cups to a blender and purée. Return puréed mixture to the pan and stir to mix. Serve warm or chilled.
I opened two pints of apricots and drained them for the quinoa. I was left with about a cup of apricots and quite a bit of good liquid from canning. When I canned them, I only used lemon juice and a little stevia. I made some sugar free muffins by substituting 1/2 teaspoon of liquid Stevia and about 1/2 cup of the apricot juice.
Sugar Free, Dairy Free, Apricot Muffins
Sugar Free, Dairy Free, Apricot Muffins
* 2 cups whole wheat flour
*
1/2 tsp Stevia and 1/2 cup apricot juice or water
* 1 1/2 tsp baking powder
* 1/2 tsp baking soda
* 1/4 tsp salt
* 1 tsp ground ginger
* 1 cup coconut milk
* 3 tbsp sunflower oil
*
1 TB ground flax seed and 3 TB water
* 1 cup canned apricots
Preparation:
Preheat oven to 400 degrees. Coat a nonstick 12-cup muffin pan with cooking spray, or line with paper cups.
In a large bowl, combine flour, sugar, baking powder, baking soda, salt and ginger. In a separate bowl, combine buttermilk, oil and egg.
Make a well in the flour mixture and add wet ingredients. Stir until just moist.
Scoop about 1 tablespoon of batter into each muffin cup followed by a teaspoon of apricot preserves. Fill cups evenly with remaining batter. Bake for 18-20 minutes until golden, then cool on a wire rack.
Makes 12 regular or 24 small muffins.