One of my holiday gifts this year was a basket of heirloom beans. This weekend I cooked up the Tepary beans.
Tepary Beans
are a little larger than a lentil, but plump up like a bean. I just made a simple bean pot. Sauteed garlic, onions, chopped red bell pepper, simmered in low sodium vegetable broth. I think I threw in some thyme, basil, a couple tablespoons raspberry balsamic vinegar, and a tablespoon of pumpkin honey.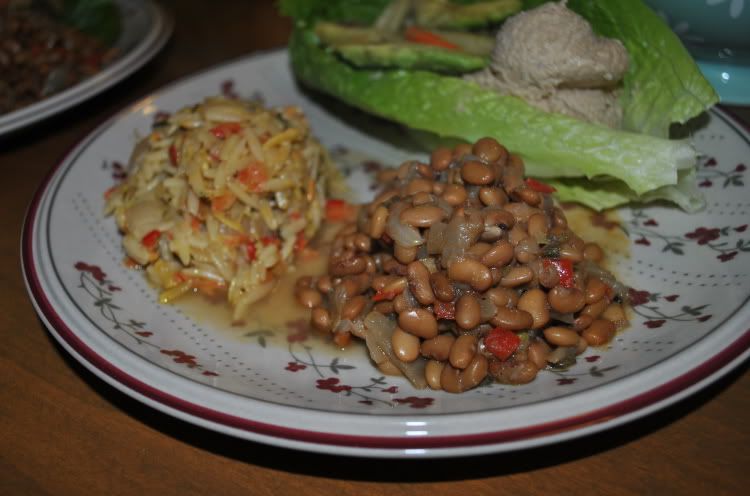 The Orzo is a variation of a recipe in a book I've been reading this year,
Animal, Vegetable, Miracle
. There are recipes at the end of many chapters and lots of good gardening and food preserving information in it. There's even a whole day planned out canning chutney, barbecue sauce, relish, and tomato sauce. The directions even tell you to invite a friend for that day. Heads up Morgaine. The chutney and relish recipes look good. I was looking for a recipe I'd tried last summer and came across this easy Zucchini and orzo. I've had half a box of orzo sitting on my counter looking for a home for about a month.
They talk about the end of the summer when the gardens are overflowing with zucchini. People who don't ordinarily lock their doors make sure they are locked because someone might drop off a bag of vegetables it they don't. That didn't happen this year in our area, hope it's better this year. They have lots of recipes to hide the zucchini so the family doesn't know how much they are eating. This my version of one called "Disappearing Zucchini Orzo".
Prepare 8 oz. Orzo
1 chopped red onion
1 red bell pepper, diced
3 cloves chopped garlic, or to taste
2 large zucchini, grated (I used a couple very large yellow zucchini)
2 large carrots, grated
Olive oil for saute
Thyme
Oregano
1/4 cup vegan cheddar cheese
1/4 cup vegan mozzarella cheese
Saute zucchini, pepper, and carrots briefly with chopped onion and garlic until lightly golden. Add spices to zucchini mixtue, stir thoroughly and remove from heat. Combine with cheese and cooked orzo, salt and pepper to taste. Serve warm or cold.