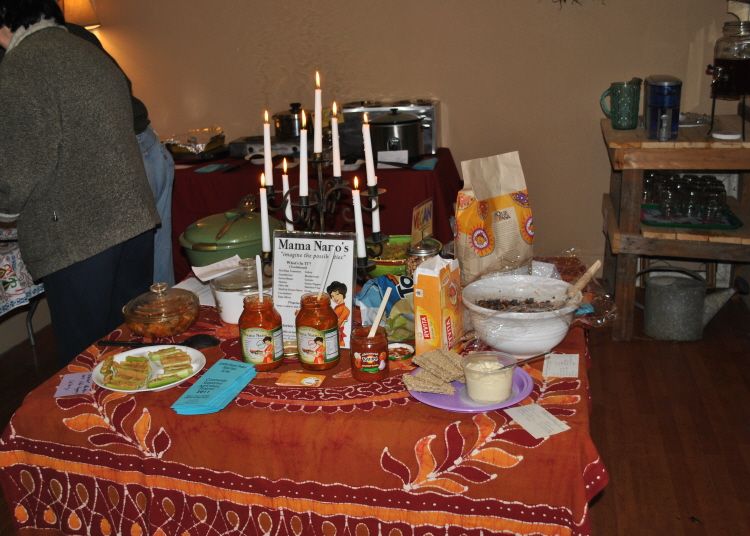 Our first vegan/vegetarian potluck in Longview was a delightful experience. We cleaned up the store and put out some tables, lit some candles, and put out some wonderful food. Thirty five people showed up with a nice variety of vegan and vegetarian dishes. I didn't taste anything I didn't like and I saw many people going back to the buffet tables more than twice.
I may have missed some, but of the wonderful dishes to choose from for dinner was:
Lentil Salad
Cauliflower & Raisin Crustini
Spanikopita
Vegan Mac and Cheese
Spinach Quiche with green & red peppers and cheddar cheese
Vegetarian Pizza
Roasted new potatoes with cheddar cheese, yellow bells, olive oil, butter, and balsamic vinegar
Vegan Taco Soup with crunchy toppings like tortilla ribbons and roasted sunflower seeds
Butternut squash and white bean stew with almonds, chickpeas, potatoes, raisins, and spices
Crock Cheese made with tofu and white miso
Raw Kale Salad with Root Veggies
Green salad with romaine, green leaf lettuce, spinach, almonds, and pureed plums
Vegan Cornbread
Asian Pasta and Greens salad
Pumpkin Pie Bars
Sweat Meat Squash Muffins
Peanut Butter Celery Logs
Chocolate Beet Cake muffins with Raspberry Icing
Hibiscus Lemon Cheesecake (I have some of that to munch on today, Thanks Morgaine :D)
Thanks to my friends for all your help. Rachel put together a beautiful flier, Michele used her fantastic scrap-booking skills to make us some table signs, Christy, Lester, Rhonda, & I turned that little produce store into a dining room for the evening, and everyone prepared something great for the dinner. I do believe the potluck was very successful. Everyone I've heard from enjoyed themselves and are interested in doing it again. Peter gave a great talk with a lot of information in a very short time. I was toast yesterday, but I don't think the next one will be as much work. Next time, I'll have a little more help with the arranging. I think having one monthly might be too much, but every two or three months might work. We'll see. Christy and Les at Payton's enjoyed it and are up for doing it again.